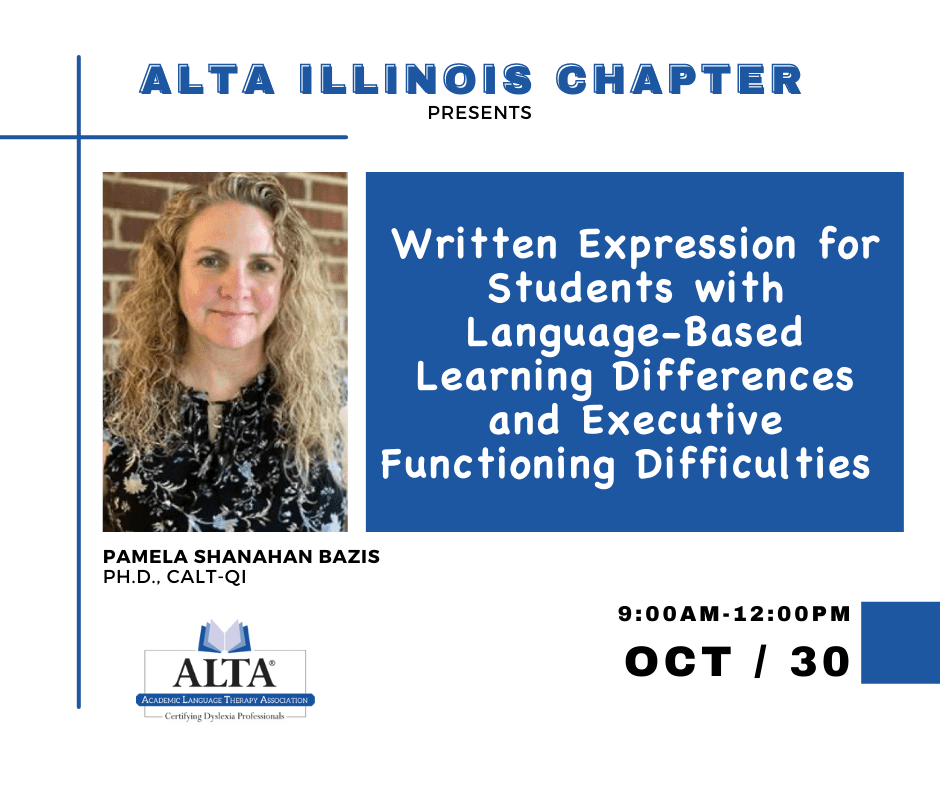 22 Sep

Written Expression – ALTA Illinois PRESENTS

Written Expression for Students with Language-based Learning Differences and Executive Functioning Difficulties – By Pamela Shanahan Bazis, Ph.D., CALT-QI

Written expression is a complex process that requires the integration of related foundational literacy skills, of which many require the use of executive function skills. This integration process can be challenging for students who have difficulty with one or more of those skills and, therefore, hinder their ability to write effectively. With this in mind, the focus of this presentation is to identify common challenges that students face with written expression and provide research-based instructional approaches to help remediate these difficulties. The presentation will be grounded in writing theory and relevant research with practical application embedded throughout the presentation.

Pam has 29 years of experience in education. In her doctoral program at the University of Nebraska–Lincoln, Pam focused her research on intervention development in expository text writing, handwriting, and foundational skills for students having difficulty in reading and writing. Currently, Pam is an Assistant Professor of Literacy in the Department of Theory and Practice in Teacher Education at the University of Tennessee, where she continues to conduct research in literacy.
October 30, 2021
9.00 am – 12.00 pm
University of St. Francis 500 Wilcox St., Joliet, IL 60435 (Donovan Hall San Damiano Room)
EARLY BIRD SPECIAL!
$30 IF YOU REGISTER BY 10/15 $40 AFTER 10/15 OR AT THE DOOR
THIS EVENT IS WORTH 3 CE HOURS
Click HERE to register for the event.
Click HERE to download and share the event flyer.